This Ohio Permit Test, with multiple choice questions, is intended to help you prepare for the Ohio Driver License written knowledge test that is required before you can get your driver's license. Passing the Ohio temps test is as easy as 1 2 3 using our online interactive driving practice tests with high quality images. Study for this driver's license practice test is completely free.
Ohio's driver licensing system is outlined by the Ohio Revised Code (ORC). Chapter 4507 states that no person shall operate a motor vehicle on any public road, or any public or private property used by the public, for vehicular travel or parking unless the operator has passed the required tests and obtained a license from the Registrar of Motor Vehicles. All applicants must pass a vision test and a knowledge test to obtain a temporary instruction permit identification card (TIPIC).
If you have completed a defensive driving course, you may be able to save on your auto insurance premiums when buying new or used car either by financing, leasing or through bank car loan.
Start Your Ohio Permit Test
Ohio DMV Practice Test – Quiz 1 (Signs)
Ohio DMV Practice Test – Quiz 2 (Signs)
Ohio DMV Practice Test – Quiz 3 (Rules)
Ohio DMV Practice Test – Quiz 4 (Rules)
Ohio DMV Practice Test – Quiz 5 (Rules)
Ohio DMV Practice Test – Quiz 6 (Rules)
Ohio DMV Practice Test – Quiz 7 (Rules)
Ohio DMV Practice Test – Quiz 8 (Rules)
DMV Ohio prueba (Español)

It is recommended that you take a practice test before you take the actual written test. There are seven free practice tests for each state. First two tests cover roads signs and the other tests cover road and traffic rules.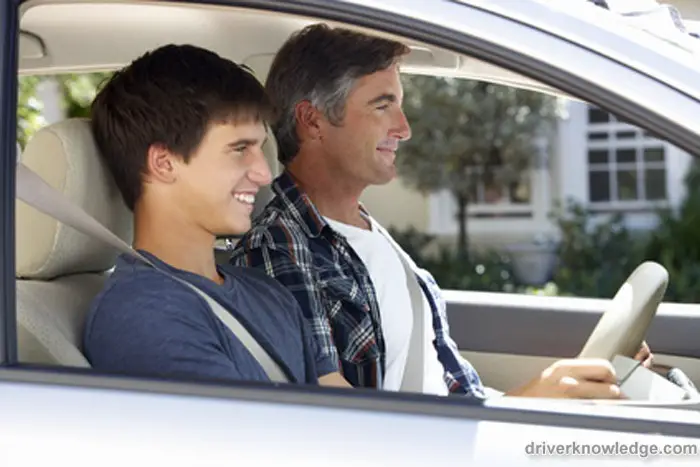 Practicing for the Ohio Permit Test
Prepare, prepare, and prepare some more. Ask any teacher about the best way to pass a test, and preparing will come up as the number one answer. But how do you prepare for your Ohio Permit Test? It's simple, really: by taking one or more of our Practice Tests.
Venture to our website, and you'll find no less than eight practice tests that cover everything you could possibly expect once you get set for the real deal. Two of the quizzes exclusively cover road signs, making sure that you know the difference between a yield and a stop or the various road work signs. The other six cover everything from road markings to traffic laws as well as when to yield.
Each test includes no less than 30 questions, so the 240 questions should leave nothing open to the imagination (or false guessing)! The tests are also uniquely tailored to the specific road laws of Ohio. Instead of possibly giving you false information that's only true in other states, we've ensured that Ohio residents will get the most out of them.
If you make it through all of our quizzes, there should be nothing in the way of acing the test. We have even included a special bonus: our Spanish language quiz allows you to practice for the test even if your native language is not English.
In short, the best way to prepare is by taking our practice tests. If you have any questions or concerns about the process, don't hesitate to contact us!