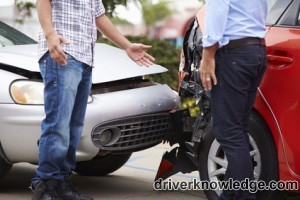 If you are unfortunate enough to be involved in a road traffic accident and you are the innocent party, do not worry. You will eventually be recompensed for everything – personal injury, damage to your vehicle as well as to any contents, insurance excess, repair costs, vehicle recovery and storage, hire costs, any loss of earnings – everything that is considered reasonable, which also includes your lawyer's fees. With this peace of mind you can just concentrate on recovering from any injuries that you may have sustained in the accident.
In the immediate aftermath of an accident, check yourself carefully and slowly for any injuries. Even if there are no apparent injuries, move very carefully and slowly. Shock and adrenalin can mask and even delay pain, particularly whiplash injuries. Furthermore, if you leap out of your vehicle and charge around looking at the damage and confronting the guilty party, there will no doubt be witnesses to testify that you appeared to be in no pain whatsoever, which could obviously affect your claim for damages for personal injuries.
Whatever the guilty party may say, make no admissions yourself, even as to partial blame. Exchange insurance and personal details with the guilty party and wait for the police to attend the scene. Once the police have completed their enquiries, drive your vehicle to the nearest repair garage of your choice, if your vehicle is roadworthy that is. Report the accident to your insurers and, if a hire car is needed, make arrangements for the same. Your insurers will offer you the services of their recommended lawyers, however you are free to choose whichever lawyers you want.
Choose your lawyer carefully. If the other party was definitely 100% liable for the accident, then you need not worry about your lawyer's hourly rate. His fee will ultimately be paid by the other party's insurers. However, be sure to ask friends and family if they can recommend a competent lawyer. You should have the peace of mind to know that you have instructed a lawyer who will conscientiously pursue a claim on your behalf and ultimately secure the best possible award of damages for you.
Whilst it is ideal to instruct a lawyer in your vicinity, it is not vital. Cases can be conducted from their inception all the way through to trial without you ever needing to attend the lawyer's office. Either he will attend your house or, if the law firm is not local, he will instruct an agent on his behalf to attend at your property. This would predominantly be for the taking of a statement or for the completion of official Court documents.
Once you have provided initial instructions to your lawyer, he or she will attempt to make contact with the other party and/or their insurers. This may take time if the other party failed to provide you with their insurance details or provided false contact/insurance details. In the event that the other party is not insured, then a claim can still be pursued, albeit against the Motor Insurers' Bureau. Your lawyer will request an admission of liability from the other party. Ideally liability will be accepted and then the lawyers will attempt to agree a figure for your damages. More often than not however, liability is repudiated.
Your lawyer will then begin to collate evidence in support of your case. Namely witness statements, medical evidence, engineering evidence, photographs, sketch plan and evidence in support of items of special damages. With regard to the medical evidence, your lawyer will arrange for you to attend a medical expert who will examine your injuries and provide a prognosis in relation to the same.
Once the lawyer has collated all documentation in support of your claim, he will disclose this to the other party and request an admission of liability together with offers in settlement of your claim for damages. In the absence of a response, or upon the continued repudiation of liability, the lawyer will subsequently issue Court proceedings on your behalf. This will be in a Court local to you, thereby making it as convenient as possible should the need ever arise for you to attend. Your claim will consist of a claim for damages for personal injury and any claim for special damages, namely repair costs, any hire charges, recovery and storage fees, insurance excess, damage to any clothing or vehicle contents, loss of earnings and other incidental expenses directly related to the accident.
Once proceedings have been issued, both parties will have to adhere to a strict timetable imposed by the Court. Your lawyer will advise you with regard to this timetable and the documentation required by the Court. More often than not, in response to the Court proceedings having been issued, a Defense to the proceedings will subsequently be received from the insurers or lawyers for the other party. The Defense will again dispute liability and may even raise an argument with regard to 'low speed impact', namely that the accident occurred at such low speed that it would be impossible for anyone to sustain personal injury.
Documentation will subsequently be lodged with the Court by the lawyers for both parties to assist the Court in progressing the case. The Court will then list the matter for a trial. As the trial approaches and the other side is aware that your lawyer will soon begin preparing for a costly trial (which the other side will be paying for should they admit liability or be found liable by the Court) an admission of liability and/or a settlement offer can be expected.
If the case proceeds to a trial, your lawyer will advise you as to the dates and times and when you are required to attend. All issues in dispute will be put before the Court by the lawyers and argued. The Court will ultimately make a decision with regard to liability. The amount of damages will usually be agreed between the lawyers although the Court is sometimes requested to adjudicate in relation to some hire claims or particularly high special damages claims.
In the event that a settlement offer is received, your lawyer will advise you whether this represents an appropriate sum, taking into account the injuries sustained and any claim for special damages. Once a figure has been agreed between the lawyers, your lawyer will secure payment on your behalf and forward details of his costs to the other party for payment. Cases can take anything between four months to four years to be finalized so patience is required. The length of a case depends on how proactive your lawyer is, how responsive the other party's insurers/lawyers are to communications, whether there are complex issues involved and whether the case is a particularly high-value case.
By Charles Regent